Rent ANY Piece of Culligan Equipment for $9.95/mo.*
Want to see the difference a Culligan system can make for your family in your home? Try us out! For a limited time, you can get a three-month trial on any piece of Culligan equipment for $9.95/mo.* This includes:
Culligan Water Softener Systems
Culligan Reverse Osmosis Systems
Culligan Whole Home Water Filters
Contact us today to schedule an in-home consultation. *Excludes bottled water.
$29.95 System Tune-Up (Reg. $49.95)
Not sure if your system is working properly? Have your current system inspected by your local Culligan Water expert! For a limited time, just $29.95. Any Make, Any Model!
What's In Your Water?
Get a FREE Water Test!
Why Culligan?
No third-party installation. No big box retailers. Full-Service high-quality water
Customized to fit YOUR water needs. Your neighbor's home, your parents' home across town — their home water situation may be very different from yours. Culligan works for your tap, your family, your home
Security: Limited 20 year warranty, No shipping damage worries, no restocking fees!
The Proof
Why Do Clinton
Homeowners LOVE Us?
Paul
Fast, efficient with customer's best interest in mind. Great communication from initial call for service to updates regarding arrival tow and at the time of service. We were happy our appointment was set up for a few days after our call. No long wait.
Robert
These guys go above and beyond to help their customers in any way that they can. Their products are easy to use, maintain, and Culligan assists in any way possible to ensure the best experience with their products.
T. T.
Culligan Water is everything a company should be. They are appreciative of their customers. They give you a quality product right to your door. Refreshing and delicious. All at a fair price. I get a water cooler too and no longer have to carry heavy water bottle up stairs. There are not many companies I am happy with but Culligan is one of them.
Water News
Get the Latest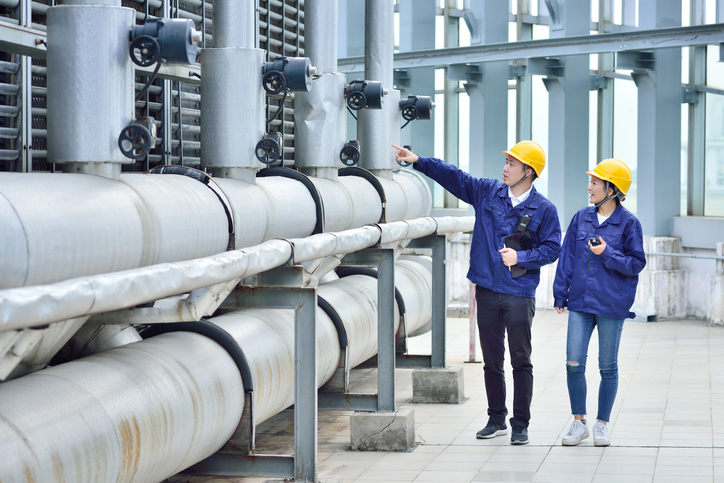 Commercial & Industrial
Are You Losing Operational Costs Because Of Poor Water Quality or Treatment Equipment?
Culligan Water Conditioning of Clinton, OK C&I has boots on the ground everywhere for local service. We provide quick service – from install to maintenance, reducing downtime and ensuring efficiency.
Deionization
Industrial Softening
Large Scale Filtration/RO
Pre-Treatment
Storage/Distribution
Reclamation/Re-Use
What Are The Best Water Treatment Solutions For Clinton, OK?
With this combination of water resources, Clinton water quality often faces our share of water filtration and treatment issues:
Surface water, like rivers and snow melt, absorb contaminants that can be harmful for consumption as well as annoying around the home. Most of these contaminants include naturally occurring bio materials and minerals. This means water quality can worsen seasonally when warming temperatures contribute to algal blooms, or heighten water sensitivity to microorganism growth.
Ground water presents its own treatment challenges and filtration issues, so Clinton residents with primarily ground water service may see different water problems than those using water from Clinton Area's surface water sources. Most often, these manifest as hard water problems which cause buildup on faucets and fixtures, and can be hard on appliances and plumbing.
The Best Clinton Water from the Water Filtration Experts at Culligan
Clinton and the surrounding area's water sources come from a combination of both surface water and groundwater.  While each of these water sources have their benefits, they also each present certain drawbacks.  Since your water can be coming from either, or both, of these sources, it is important to understand how the water from these sources could affect your Clinton home.
Surface water sources are sources whose water originates in reservoirs, lakes, rivers, and other water sources that are exposed to open air. Due to the exposure of these sources, microorganism growth, algal blooms, agricultural runoff, and pollution can all effect the quality of the water. While the municipal treatment plants will filter out any noticeable particulates and bacteria, there can be microscopic contaminants that make it through their filters. In addition, the contaminants that have been sitting in the water can affect the taste and smell of the water, even though it was treated, and make it unpleasant to drink.
Groundwater sources are those that are serviced by underground wells and aquifers. These sources don't have to deal with many contaminants and even go through a natural filtering process as water seeps through the layers of earth, but they are very susceptible to making the water harder. Hard water is water that contains a high concentration of minerals, which can cause problems throughout the home. If you notice white buildup around your plumbing fixtures, bad tastes or smells in your drinking water, or rust-colored stains in your sinks and tubs, you may have hard water in your home.
For over 80 years, Culligan has been giving people peace of mind. If you're using Culligan, you know that wherever your water comes from, you're getting the best drinking water straight from your tap. With great, local employees who understand the specific water problems that plague our area, Clinton Culligan has the experience and knowledge to come up with a customized solution for your water problems. Give us a call today!